Bridport Literary Festival Comes to Colfox!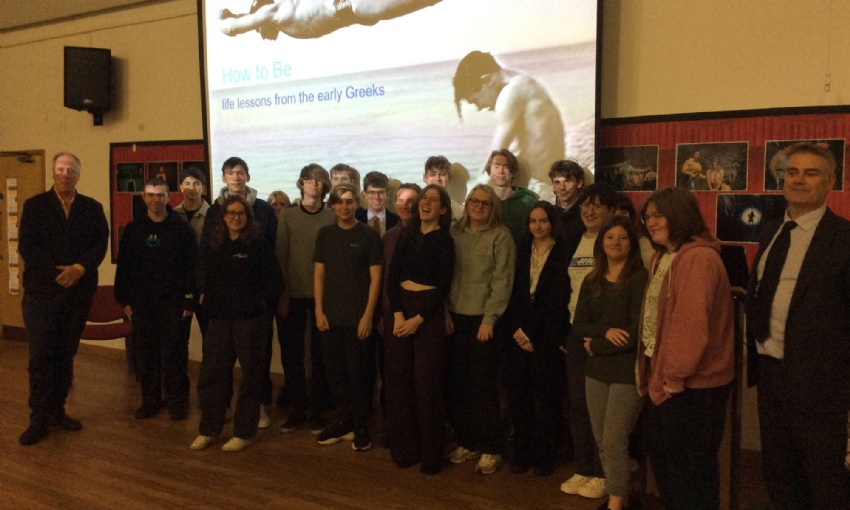 We were delighted to welcome authors Peter Snow, Ann Macmillan and Adam Nicolson and the public to Colfox this week, as part of Bridport Literary Festival.
Our students were given the opportunity to join the public and hear Ann and Peter's lecture on 'Real Lives of English Monarchs' and Adam's talk on 'How to Be - Life Lessons from the Early Greeks."
Chandler in Year 11, said: "I really enjoyed the lecture, I thought it was very interesting, Peter and Ann were very clear, I enjoyed seeing the different themes and learning about them, it was very captivating."
Evie, also in Year 11, said: "I found it intriguing how the monarchs were given a detailed back story, regarding their successes and how they earned their status."
The talk on Ancient Greece was well-received by our students studying Latin, Greek and Ancient History. These subjects have been introduced as a new Classics Hub has been launched at Colfox.
Adam Teasdale, Head of Sixthform, who introduced the authors and chaired the question and answer sessions, said: "At Colfox, we have recently changed the name of our Modern Foreign Languages department to 'Culture and Languages'. We recognise the importance of ancient civilisations, languages and cultures and have recently formed a 'Classics Hub'. As the lead school in the trust, we are helping to reintroduce Ancient History at A Level, Greek at GCSE and Latin at both GCSE and A Level to all our partner schools, including Beaminster. Our aim is to revitalise the life lessons that the early Greeks gave us, and a book like How to Be is the perfect guide to help us on this quest for knowledge."
Thank you also to Joanna Jacobson for helping to bring the Festival to Colfox and to our Sixth Former Matt and Brian Hocking, Head of Music, for setting up the sound systems for the lectures.